To help get you to the right website, please choose one of the options below
Skip Header
Paraplanner technical hub
Supporting paraplanners in a world of constant change
Paraplanner Team Leader Event
We hosted the latest Paraplanner Team Leader event at our London office, in association with Professional Paraplanner. Over 40 paraplanners attended in-person for the mentoring and soft skills training day. Watch our video highlights.
Talking points – the latest technical insights in one place
Retirement savings hierarchy webinar
Retirement insights and strategies
Adviser research
Update: 'Replacement' of the lifetime allowance
The NMPA and protected retirement ages
Consumer Duty support zone
Download now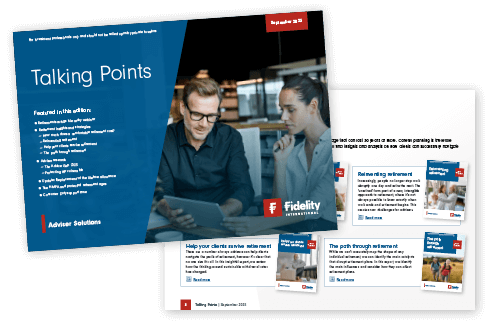 Retirement savings hierarchy webinar
Fidelity's Paul Squirrell runs through how recent tax changes affect the planning process while Jon Hale demonstrates our platform functionality.
Challenges and strategies for income in retirement
The introduction of unfettered drawdown means planning an income in retirement is far from straightforward.
Considerations around the State Pension
Guides and insights on the State Pension – the foundation block of retirement income planning for most retirees.
Consumer Duty update
As part of our continuing drive to provide good consumer outcomes, we've now published our Target Market and Value Assessment statements on our Consumer Duty hub page.
Due diligence: choosing the right partner
Selecting a long-term adviser services partner is a major decision for any advisory firm. Our due diligence materials cover why our service and product wrappers could be suitable for your clients.
Your 10 must-do tasks for the 2023/24 tax year
Here we provide a number of ideas to ensure your clients are making the most of their savings and investments.
The Pension forum
Paul Squirrell, our pension expert, answers technical questions raised via our Pension forum.
Topics include:
Taking a PCLS after age 75 and the maximum payment that can be made
An UFPLS withdrawal and the annual allowance tax charge

 

Employer's contributions and PCLS recycling rules


 

 

 

 

 

 

 

 

 

 

 
Navigating the retirement maze
Post pension freedoms, more people are choosing drawdown for their retirement, many without advice, and often withdrawing at rates of income that may not last a lifetime. What's more, retirement is increasingly a transition. Against this background, adviser firms need to take a holistic view of retirement, managing and adapting their clients' plans as circumstances change. Our range of reports look at these issues and show how you can help clients achieve a better retirement.
Download now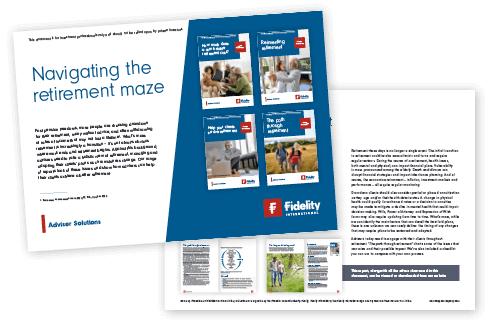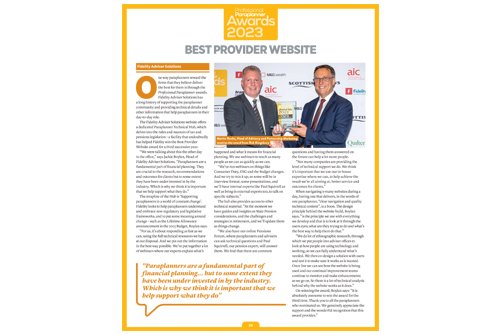 Jackie Boylan interview with Professional Paraplanner
Jackie Boylan, Head of Fidelity Adviser Solutions, spoke to Professional Paraplanner about winning their 'Best Provider Website 2023' award. She also discussed why it's important to continue providing support to paraplanners.
5-min read
Professional Paraplanner 2023 Awards
We are delighted and proud to announce that Fidelity Adviser Solutions has been named as 'Best Provider Website' at the Professional Advisers Awards 2023. These awards are a barometer of success for providers and advisers from all corners of the UK. They recognise the very best in the industry in multi-asset investing, platform provision, adviser support, paraplanning and adviser engagement.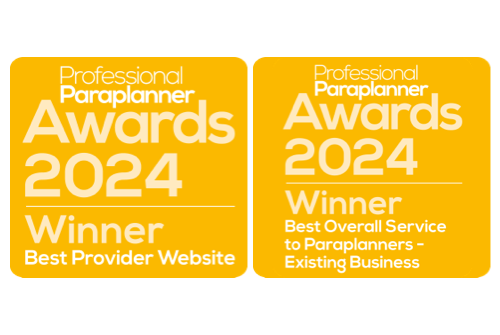 Professional Paraplanner's Development Zone
Personal and professional development is a fundamental aspect of being a great paraplanner. Here, you can access insightful, practical, and enlightening articles to help your development journey.
Paraplanning in a pandemic 2021 report
We are delighted once again to be sponsoring Professional Paraplanner's unique report into the role of the paraplanner in what has been a challenging period.
Professional Paraplanner 2021 Awards
We are incredibly honoured to have received the Professional Paraplanner Editor's Choice Award, a special prize that recognises exceptional support given to paraplanners over the last five years.
Previous reports and articles
Professional Paraplanner – Business Focus
In 2020 we celebrated our 20th anniversary. Rob Kingsbury spoke to Jackie Boylan, Head of Fidelity Adviser Solutions, about the milestone, her career, diversity in financial services.
Professional Paraplanner – interview with Jackie Boylan
Jackie Boylan, Head of Fidelity Adviser Solutions, spoke to Professional Paraplanner about winning their 'Best Provider Website 2020' award. She also discusses how we're using client feedback.
The Rise of the Paraplanner Report
Research into the paraplanner role has revealed a significant growth in the influence of paraplanners in financial planning firms over the past 5 years.
Your guide to Fidelity's Adviser Solutions
Your guide to the services and solutions we provide, as well as the products and investment options we offer.
New to Fidelity Adviser Solutions?
Find out what we offer to help you build profitable and sustainable financial businesses.