To help get you to the right website, please choose one of the options below
Skip Header
Re-registration and transfers
If you are considering transferring assets to Fidelity Adviser Solutions, we are here to support you all the way. We'll help you manage the whole process from start to finish. Moving clients to a new platform has historically been perceived as a time-consuming, labour-intensive task. So, we've completely reviewed our re-registration and transfer proposition to help make the process as simple and efficient as possible. Here you'll find all the support you'll need prior to, during and upon completion of any applications on behalf of your clients.
Benefits of working with us
Process
A fully compliant process supporting the requirements of the FCA's Platform Market Study
We only ask for client signatures if the existing provider requires a letter of authority
We provide automated electronic transfers between fund managers and other platforms, allowing for a smoother process
Our re-registration and transfer process is fully online.
People
Support from our experienced and skilled transfer specialists
Consultative engagement to help design and implement your bespoke transfer plan
Continuous point of contact throughout your transfer project.
Tools
Online illustrations are available, if required
You can enter the acquisition costs once assets are re-registered to an Investment Account in order to receive capital gains reporting
Re-registration and transfer tracking tool provided as an integral part of your clients' accounts.
Technology
We support you by determining whether the fund/share class held by your clients are available on the platform and available for re-registration
A bulk re-registration/transfer service, should you wish to move a book of business altogether.
We've introduced a new 'Instruction and Transfer Tracking' service to make it easier for you to review applications and instructions you have submitted.
 
Skip to section
Our 'Instruction and Transfer Tracking' service is designed to make it easier for you to review applications and instructions you have submitted to us. Please note instructions submitted on paper will not appear in the instruction tracking (for example, lump sums for Corporate and Trust accounts, drawdown instructions). In addition, transfer tracking does not include pension re-registrations at this stage.
The new format splits out:
Instructions which are still at the quote stage under 'Pending instructions'
Quotes which have been submitted under 'Submitted instructions'
Tracking for the progress of re-registrations and transfers.
You can view a video demonstration, or further information is set out below.
From this screen you can view or edit pending quotes. You can view the history of who has updated the quote, or you can delete quotes that are no longer required. To perform any of these functions select the 'Actions' button.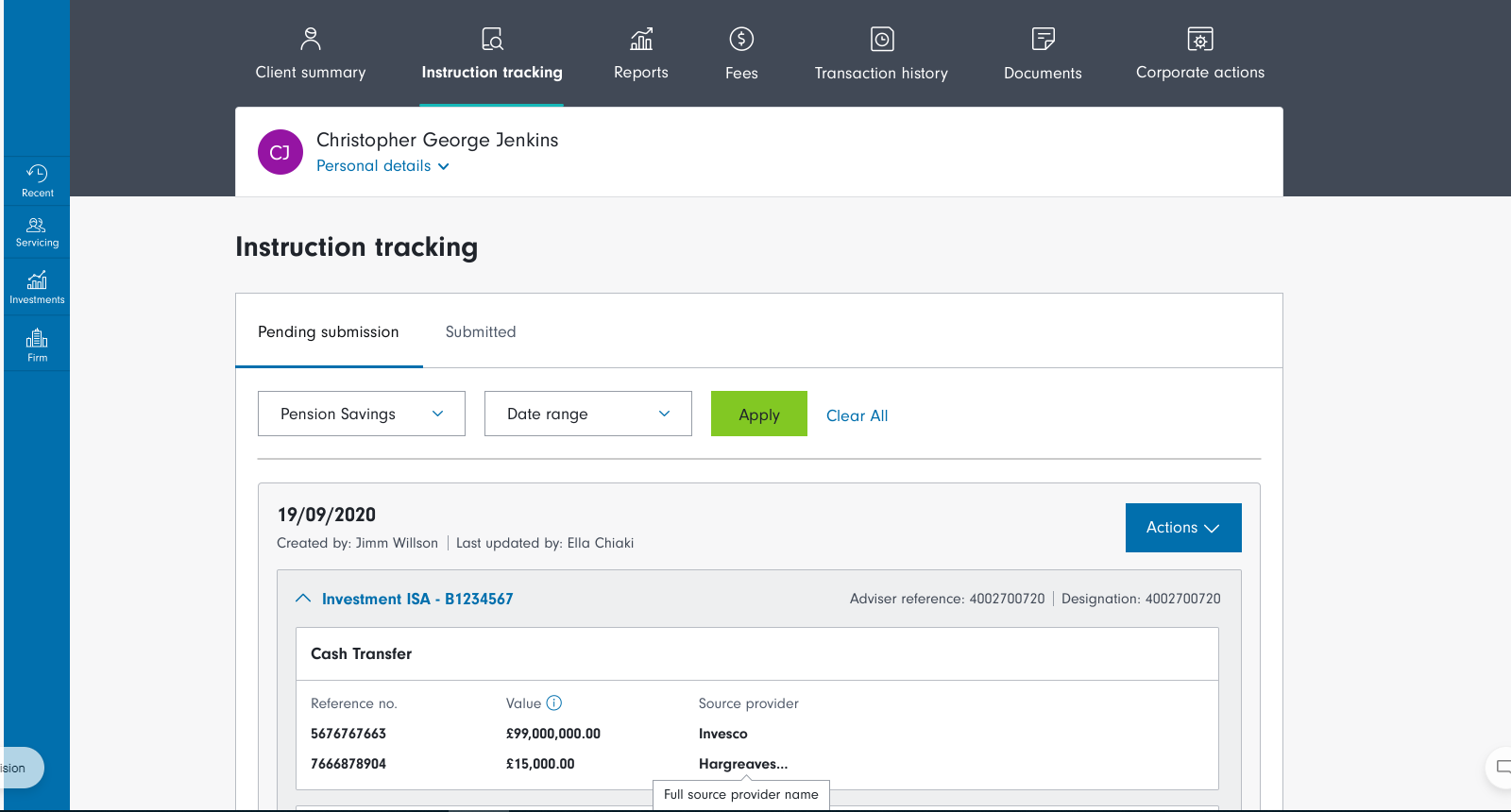 Under submitted instructions click the 'View' button to see what has been submitted. There is a traffic light status to highlight which instructions are in progress, have been completed or rejected.
To view more information about the status of an ISA or Investment Account re-registration or an ISA or Pension Cash Transfer, click 'Track' at the end of each instruction entry.
You will then see the following screen.
NEW: Email notifications can be switched on to keep you up-to-date with the progress of your latest applications without the need for you to log in.
Tracking includes:
 
Estimated number of days to completion
Status updates at each stage of the transfer, including notification of when a case has been rejected
Updates at asset level (on the asset tab) for re-registrations (you can see this below)